---
The Baltic index of dry bulk shipping rates fell by the most on record on Tuesday, offering a grim outlook for the global economy.
The Baltic seaborne Dry Bulk Index is one of the most important indicators of global shipping and economic health. An overall index tracking rates for Capesize, Panamax and very large ships carrying dry bulk cargo plunged 17.5 percent to $1,250, the biggest one-day drop since 1984.
The BCI index, which tracks rates for Capesize ships, plunged 27.7 percent to $1,635, its biggest one-day drop in more than four months.
Capesize ships mainly carry coal, iron ore and other raw materials, with a capacity of about 150,000 tons. Recently, the average daily revenue of this type of ship has fallen by $5,188 to $13,561.
The BPI index, which tracks rates for Panamax ships, fell 6.3 percent to $1,438, the lowest since Sept. 6.
The ship usually carries about 60,000 to 70,000 tons of coal or grain. The average daily rate for Panamanian ships recently fell $869 to $12,944.
Kristalina Georgieva, the current managing director of the IMF, told a US television programme on Sunday that a third of the world's economies will fall into recession this year.
Business activity contracted worldwide last year, according to jpmorgan's global composite purchasing managers' index. The latest Baltic Dry index confirms recession fears.
Three industrial commodities -- lumber, copper and crude oil -- are hovering at low levels, signaling low levels of global economic activity. Moreover, agricultural, energy and industrial metal prices have all fallen since peaking last summer, according to a Bloomberg commodity index.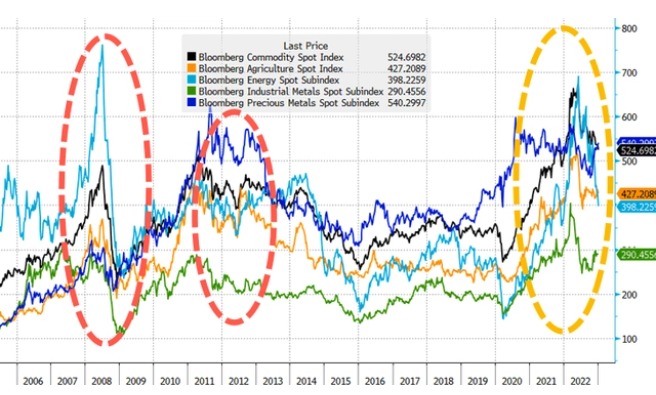 Since March 2022, with the Fed aggressively raising interest rates and the global economy in a slump, weakness in shipping and commodity prices has indicated that recession risks are rising.
However, other institutions are relatively optimistic. According to Jefferies' daily report:
"At the beginning of the year, dry bulk rates went down... Not surprisingly, the first few weeks of the year are usually seasonally weak for the shipping industry."