---
"Our goal is to rapidly increase the number of flights, provide our customers with reliable and fast air cargo options, and make our customers' supply chains more resilient," Maersk said. The picture
Maersk Air Cargo will see a significant expansion of its airfreight network in the coming weeks with direct flights between China and the US.The services will connect manufacturing and commercial hubs in eastern China with those in the US East Coast and Mid-West. Maersk Aircargo will also launch services between Hangzhou and Chongoing in China and its air cargo hub at Billund, Denmark, That comes after MaersAir Cargo inaugurated it's new airfreight service on 0ctober 31with the start of two weekly flights between Greenville-Spartanburg, SouthCarolina and lncheon, South Korea (ICN) using the first of three recently purchased Boeing 767-300 freighters.
The carrier plans to launch two weekly flights between Hangzhou and Chicago Rockford via lncheon on November 28.This will be ramped upto six flights a week from around January 2.Hangzhou is a hig-tech manufacturing hub around 190km southwest of Shanghai, while ChicagtRockford provides access to the US Mid-West.
Maersk Air (argo is also expected to start two weekly flights Greenville-Spartanburg and Shenyang in northern China via lncheon onNovember 28, increasing to at least three flights a week from early January. Greenville-Spartanburg will provide access to the east andsouthwest including Charlotte, Atlanta and Dallas, while Shenyang is close to Dalian, Tianjin and Beijing.
Maersk Air Cargo launched two weekly flights from Hangzhou, China, to Chicago and Rockford in the United States via Incheon, South Korea, at the end of November this year, and will increase to six flights a week starting from January 2, 2023.
Also launched at the end of November is an air service from Shenyang, China, to Greenville-Spartanburg, the United States, via Incheon, South Korea, offering at least three flights a week starting in early January 2023.
"Hangzhou is one of China's high-tech manufacturing hubs, while Chicago and Rockford are important gateways to the American Midwest," Musky added.
On October 31, Maersk Air Cargo began air flights between the United States and South Korea, with twiceweekly flights between Greenville-Spartanburg in the United States and Incheon in South Korea.
Aymeric Chandavoine, Head of Logistics & Services, said at the time: "Air cargo is a key enabler of flexibility and agility in the global supply chain, helping shippers address supply chain challenges and providing diverse transportation options for high-value cargo. To this end, Maersk established Maersk Air Cargo in order to better meet customer needs while increasing our position in the global air cargo market."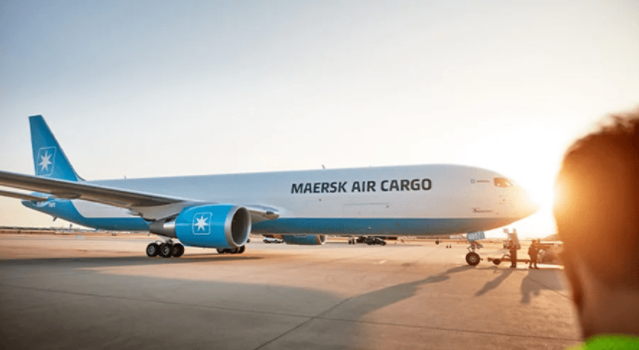 Torben Bengtsson, Head of Maersk's Global Air Cargo and LFC business, further explained: "The establishment of Maersk Air Cargo is an important step in Maersk's air cargo strategy. "Customer demand for air freight continues to increase, both now and in the future, as does the need for end-to-end logistics."