Basic Trade Terms Alibaba Incoterms 【Incoterms Explained】
Basic Trade Terms Alibaba Incoterms 【Incoterms Explained】
Always be sure to tell your supplier or freight forwarder what incoterm you want when getting a shipping quote like FOB Shanghai Otherwise you may end up paying way more than you expected. Some other commonly used incoterms are FOB, EXW, CIF, DDP and we have another video explaining all different incoterms in detail
Incoterms, also known as Trade Terms, are essentially international contractual terms applied when making sales. The most common incoterms are EXW and FOB.
What is the Difference Between EXW vs FOB?
EXW- Ex-Works
Exw Price on Alibaba is the most common term provided by suppliers. In this particular term, the supplier gives the item's unit price for the buyer to pick up at the industry; therefore, it exempts the supplier from any responsibilities over the product once it leaves the factory.
At this point, it is the buyer's responsibility for all forms of insurance or customs incurred. Unless you request to purchase on different terms, most factories will provide the EXW on request. It is the lowest price you will get the product for since it is less the other expenses involved.
2. FOB- Free on Board
Unlike EXW, Alibaba trade terms fob takes the supplier's responsibility further up to the point where the supplier takes the item to the nearest port and clears them for export. The buyer can choose to work with freight forwarders who are mostly stationed at or near the port or pick the item by themselves. Third-party inspectors can assess the goods at the port once the seller presents them. Once goods leave a country, the responsibility shifts to the buyer.
The next thing you need to know is What do you need to get a shipping quotation? Freight forwarders require the following information before they can provide a quotation.
Shipping method: Air or ocean
Total Cargo Volume (cbm)/Total Weight (kgs)
Each Carton of weight and Dim
Freight Term: EXW Factory or FOB
Pick address: factory address or port name
Delivery address
Insurance (Yes / No)
Freight Quote normally does not include: Duty & Tax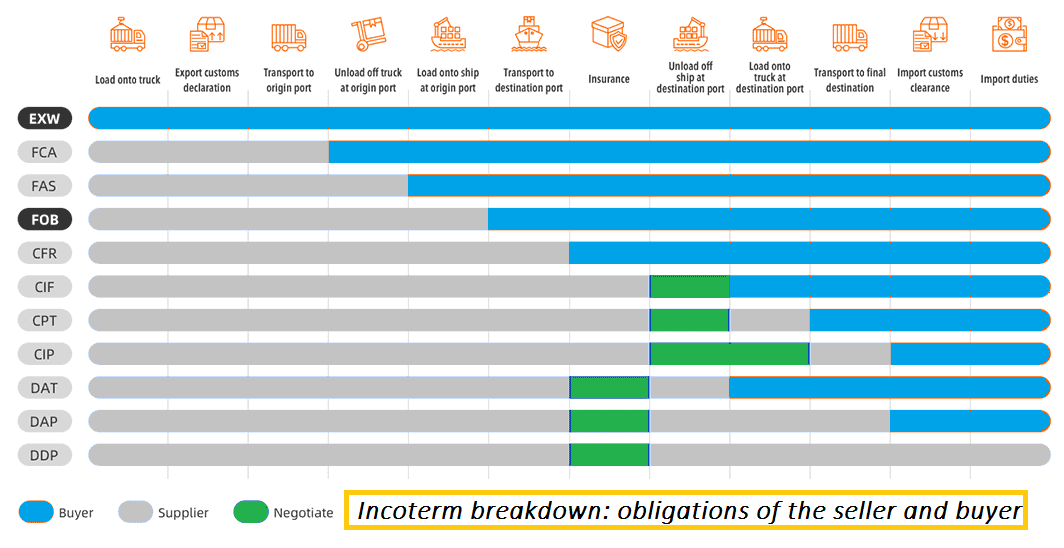 ---